Average time to read:
3
minutes
Last month I (virtually) sat down with Andrew Parlette, CTO of Tricerat. We've been in contact before and I was wondering if they have anything special up their sleeve regarding the upcoming Windows Virtual Desktop release. As it turns out, their Simplify Print Suite fits in very nicely. Of course, if you know their product stack this doesn't come as a surprise.
First things first
If you haven't had a chance to check out their portfolio, and/or you're not familiar with terms like 'ScrewDriver' and 'Simplify Printing', I would advice you to stop reading en head over to this post for some more detailed information. You'll need it to get a better understanding of what it is they do from a printing and traffic flow perspective.
Tricerat, Microsoft and the Windows Virtual desktop
Even though they were not listed as one of Microsoft's partners when WVD was announced a couple of months ago, there have been talks with Microsoft for some time now. Both parties are exploring how they can benefit from each other, and things are starting to look promising. When it comes to the WVD there are two specific Tricerat solutions that stand out, Simplify profiles and Simplify Printing. The latter being the main focus of this article, and part two as well.
Printing as part of RDS
Easy Print, Microsoft's RDS printing solution, which was introduced with Windows Server 2008, allows the mapping of client printers into the an RDS session. It uses the Easy Print universal print driver, so you don't need to have separate drivers installed for the printers that are being redirected.
One of the downsides is that Easy Print is specific to client printer redirection and doesn't work for network printers. Another drawback is that Easy Print cannot be set as default. Meaning that Microsoft-native drivers automatically get installed when the server detects a new print device with no compatible drivers on board. It being a universal solution, also means that more advanced printing features won't be available. This is where Tricerat comes in.
What Tricerat printing adds to WVD
In short, here are some of the benefits that Tricerat brings to WVD:
You will be able to make use of all advanced / rich printing features offered by your printing hard en software without the need to install print drivers on your WVD hosts (single or multi user, Desktop or Server OS).
It works for client printers as well as network printers.
You will be able to manage all of your print devices and print servers from a single management console. This includes not only WVD, but on-premises printers and print servers as well. Or those located in other remote / Cloud locations, for example.
Simplicity and consistence for your engineers (see previous bullet) as well as for your users. Never mind the type of device they are using to connect to WVD, or any other environment for that matter, the look, feel and functionality will be the same – all end points will make use of the same managed printers suite.
Last year, in January of 2018, the Tricerat Print Server Proxy was introduced. This component plays a prominent role when it comes to printing from the WVD and other remote (Cloud) locations.
It consist out of multiple smaller sub-components and services, of which some will 'live' on-premises as well. There is a constant connection between the two, On-prem -> remote/Cloud.
The on-premises piece is designed in such a way that it's easy to incorporate into your existing infrastructure without needing to open up a ton of ports, or re-configure firewall rules and such.
All print traffic send from, to, and between the Print Server Proxy (Cloud -> On-prem) will be encrypted and compressed.
Part of the solution (on the WVD hosts, for example) is based on their existing Simplify Printing Suite and Tricerat's ScrewDriver technology – see the earlier mentioned blog post for some details information on this.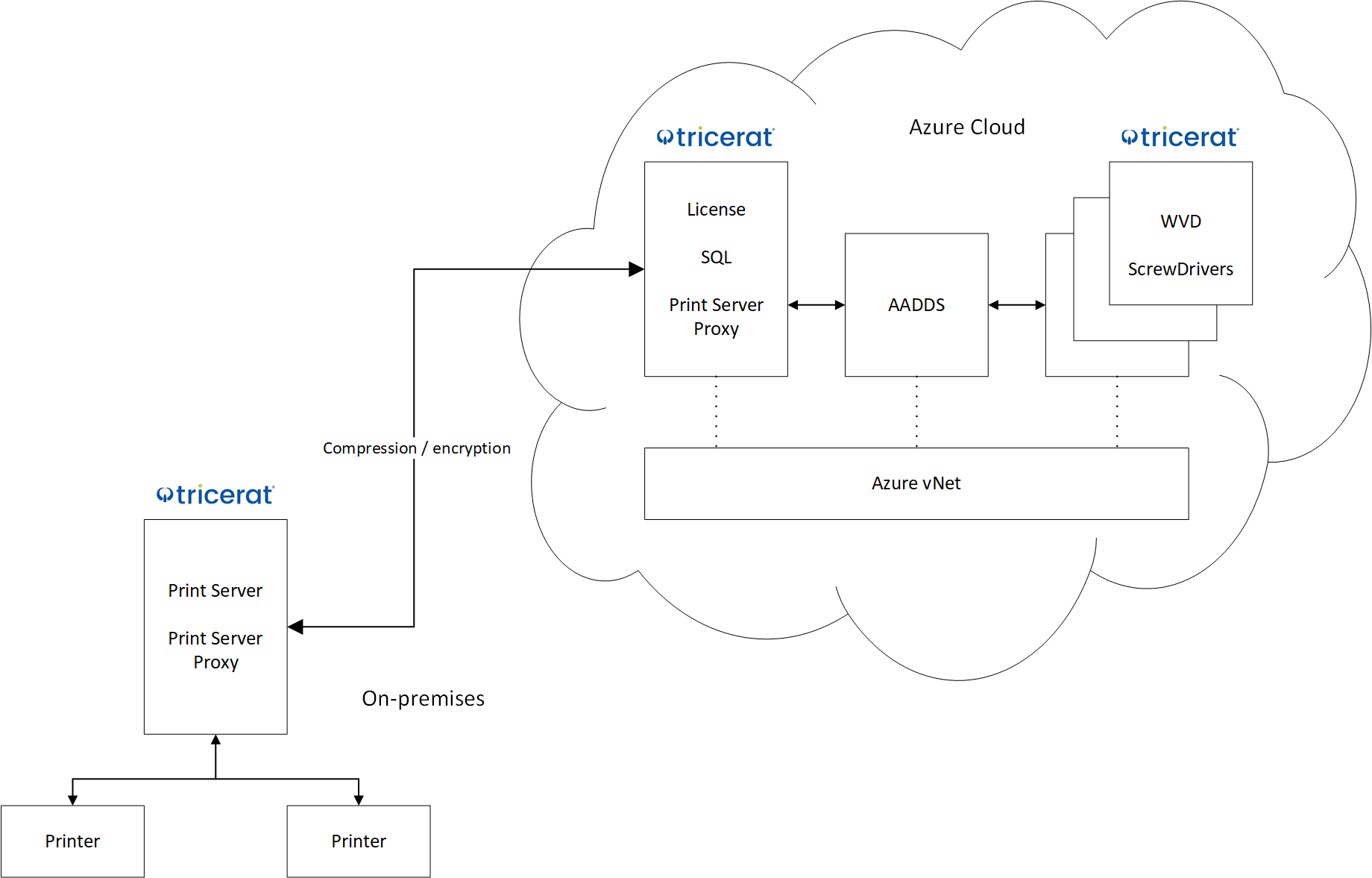 A bit more in-depth, technically
In a future post I'll make sure to talk a bit more about how the Proxy mechanism works, the ports used, print traffic flow, what other sub components are needed and where they are installed, the protocol used and more. For now I'd like to leave you with the above Visio. Although it doesn't disclose any specific technical details, it does give you a nice conceptual overview of how all components fit together.